Home
CONSTRUMA Homemaking exhibition bunch was successfully concluded
The dynamism of the Hungarian construction industry was clearly tangible at the exhibition: the representatives of the trade and the general audience filled the exhibition space covering 5 pavilions and 44 thousand square meters of gross exhibition space. Numerous conferences and professional competitions were staged during the exhibition, which was attended by 600 exhibitors from 14 countries. More than 46,000 professionals and visitors interested in building and decorating house or flat participate at the event. More: HERE

WHY IT IS WORTH TO PARTICIPATE:

57.000 visitors and potential customers
47% of all visitors are interested in HOMEDesign
Professional programs for specialists of the various topics
(internal designers, designers, engineers, mechanics, kitchen technology)
76% of visitors are professionals
Wide range of final users from all over the country, 57% from the countryside (52% of all visitors live in family houses, 17% live in block of flats and 13% in housing estates)
Target oriented and solvent customer population
48% of the visitors are planning to buy a new house or renew it in next year.
26% of the visitors made a buying decision on site,
16% of visitors made a deal.
65% of visitors are decision maker
95% of the visitors would come back next year
National media campaign (TV, billboard, radio, online)
Click on the picture to see our folder for 2018!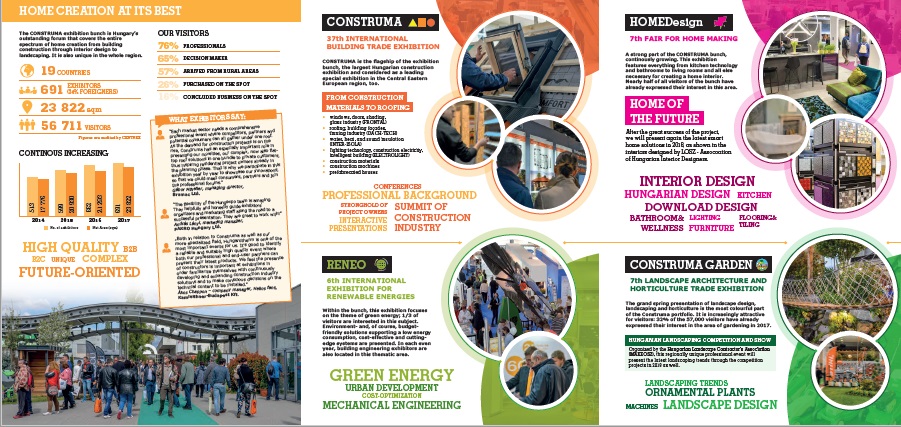 THROWBACK - CONSTRUMA 2017
Hungary's most significant construction industry trade exhibition, the CONSTRUMA was held between 5-9 April 2017, together with the HOMEDesign, HUNGAROTHERM, RENEO, CONSTRUMA Garden exhibitions and accompanied with plenty of professional workshops, the widest exhibiton of doors and windows, lighting, building materials and construction machinery.
In 2017 the CONSTRUMA exhibiton was organized for the 36th time and regarding to audited data, the exhibiton welcomed the visitors in two pavilions, on 13.497 m2 with 335 exhibitors from 13 countries and it became the biggest homedesign and kitchen technology exhibiton in Hungary. The exhibiton (together with the Construma) had 56.711 visitors.
Organizing these exhibitons at the same time, help us to reach a wider range of visitors resulting a higher amount of potential costumers for the exhibitors of the CONSTRUMA. More: here
Further pictures HERE
---
OPINIONS
Some opinion from exhibitors about CONSTRUMA:
"Each market sector needs a comprehensive professional event where competitors, partners and potential consumers can all gather under one roof. As the demand for construction projects is on the rise, Construma has an especially important role in presenting our novelties, our complex, now also flat-top roof solutions in one bundle to private customers, thus inspiring residential project owners already in the planning phase. That is why we participate in this exhibition year by year to showcase our innovations, so that we could meet consumers, partners and join the professional forums."
Gábor Miheller, managing director, Bramac Ltd.
"The flexibility of the Hungexpo team is amazing. They helpfully and honestly guide exhibitors' organizers and marketing staff along the road to a successful presentation. They are great to work with!"
András Lányi, marketing manager, FAKRO Hungary Ltd.
"Both in relation to Construma as well as our more specialized field, Hungarotherm is one of the most important events for us. It's good to identify a reliable and suitably high quality event where both our professional and end-user partners can present their latest products. We feel the presence of constructors is important at exhibitions in order familiarize themselves with continuously developing and expanding construction industry solutions and to make conscious decisions on the technical content to be installed."
Ákos Chappon – company manager, Helios fans, Kamleithner-Budapest Kft.
For more opinions, click HERE.